It's difficult to make a list of the best WordPress themes. It's a matter of personal preference, and as such, every person will have their own idea of what is good and what isn't. However, we are going to help you out with this one right now by sharing with you some of the most popular categories that everyone uses for their blogs or websites.
Generating income with blogging may be a fun and exhilarating experience. However, it is important to know that it comes with its own set of challenges and difficulties. Therefore, it is not just enough to know how to write blog posts, but you need to also have an understanding of the different marketing platforms available in the industry to make your blog a success.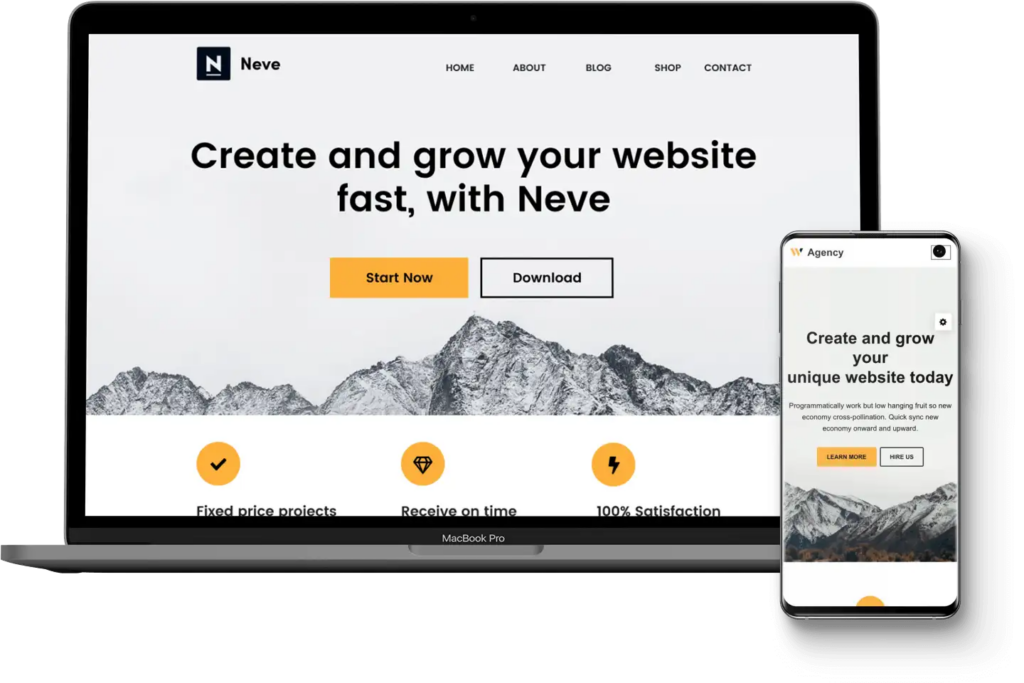 Neve
Neve is an all-in-one platform for building fully-functional WordPress sites. It has a wide array of features, including: drag and drop page builder, responsive design, caching, internationalization support, automatic pagination, and automated backups. Neve is mobile-first so it works perfectly on smart phones and tablets too!
Features:
Lighting fast (can load in less than one second)
Simple to set up and easy to use
Seamlessly integrates with all popular page builders
Extremely lightweight (Google will love you)
Customizable header and footer
Quality code and full support
Reliable updates
Over 100 ready-to-import starter sites
Sydney
With thousands of active installations across the internet, there's a reason that WordPress lovers continue to put their faith in Sydney. Actually, there isn't a reason, there are many. Sydney offers a plethora of customizations, including full control over layout and color schemes, logo uploads, sticky menus and lots more. If that's not enough, you can import one of their templates to get your business website up-and-running in no time.
Features:
Stunning design options (control the color, text, buttons, etc)
Multiple menu choices (static, sticky, inline, centered, transparent)
18 professionally designed starter sites (three are included in the free version)
11 footer widget layouts with editable footer credits
Full WooCommerce integration
Optimized for Core Web Vitals
Compatible with the most popular language translation plugins
Recommended by and fully integrated with the Elementor site builder
Get It Here Demo Price: $0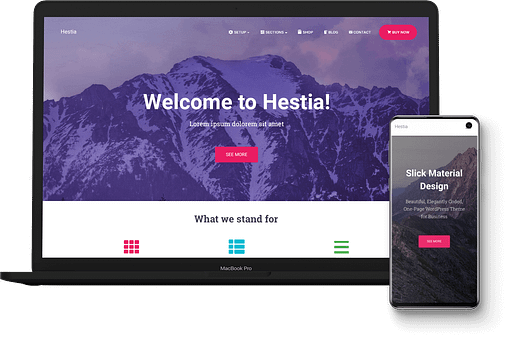 Hestia
What happens when high performance takes a great user experience out to lunch and they fall in love? Hestia happens. This stylish one page theme is sure to make your business website stand out in a crowded, competitive space. Not only will the search engines and your visitors be fans, but you'll also feel right at home when using it. Take a peek at all the wonderful features below.
Features:
Slick material design to impress site visitors
Seamless integration with the block editor and all popular page builders
WooCommerce online store capability
SEO-ready structure, plus a clean and optimized source code
Live customizer (see changes in real-time as you make them)
Ultra-fast loading times
One-click updates and fast support
Powerful, responsive, and user-friendly mega menu (arrange and organize submenu content)
Get It Here Demo Price: $0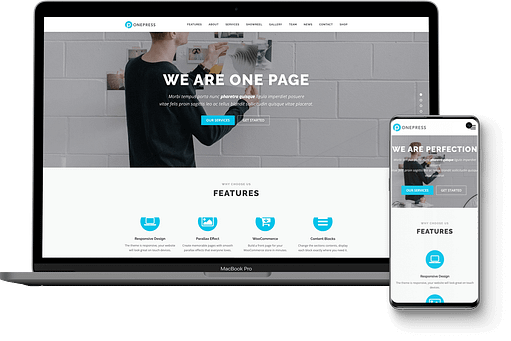 OnePress
If you're planning on launching a one-page business website, you really need that one page to demand your visitor's attention. OnePress was designed with you in mind. It's simple and straightforward, yet within its simplicity, you'll find a theme that's highly functional, SEO-optimized, and with an aesthetic design. There's no need to look at one more theme, OnePress is the one for you.
Features:
Responsive design that adapts to several devices and screen sizes
Parallax backgrounds so visitors can enjoy your aesthetic content in parallax scrolling sections
Built-in customizer so you can quickly change aspects of the design
HTML5 and CSS3 compliant coding
Optimized for speed because loading time matters
Tested for browser compatibility for a consistent visitor experience
Paid version includes one year of free updates and priority customer support
Option to translate the theme into the language of your choice
Get It Here Demo Price: $0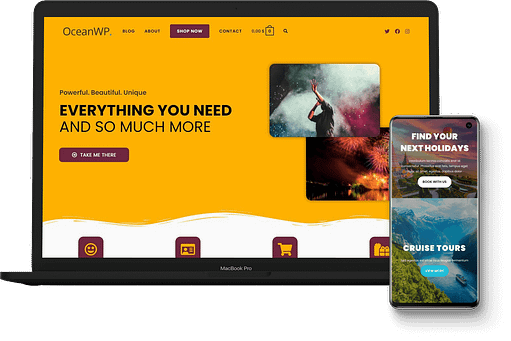 OceanWP
It's 2022. Hype alone isn't going to make your business website excel. If you're searching for a theme that's backed up by some serious performance numbers, then OceanWP is here to answer that call. The staggering amount of positive reviews (currently rated 98%) that OceanWP has accumulated is a testament to the fact that it is doing something right. Check out the features below for a deeper dive.
Features:
Fully customizable with no coding skills required
Multiple menus, including three different mobile menu styles
Visibility control (show only what you want and where you want it)
Full color and typography settings
Breadcrumb options to help reduce your bounce rate
Seven pre-made headers with customization capability
Adjustable logos for normal, large and mobile screens
WooCommerce integration (build an online store with ease)
Price: $0
Astra
"Ad astra" is a Latin phrase meaning "to the stars," and with the type of numbers this WordPress theme has put up on the board, "to the stars" is fitting. With over a million active installations on the internet, it's no wonder that the official Astra page braggadociously bills itself as the most popular theme of all time. If you want your business website to reach the moon, Astra might be just the theme to get you there.
Features:
Lightweight theme with excellent performance based on test results
Pixel perfect website demos available in the Astra library to reduce web design time
WordPress Customizer so you can customize your business site without relying on code
Seamless integration with Elementor, BeaverBuilder, Yoast, LearnDash, and other popular tools
Ability to turn off the page title and sidebar to create full-width pages with design freedom
Several header layout options built-in (Pro version has even more)
Full control over width, content and even the meta of blog posts & archive pages
Brand continuity through global color and font settings to maintain a consistent look
Price: $0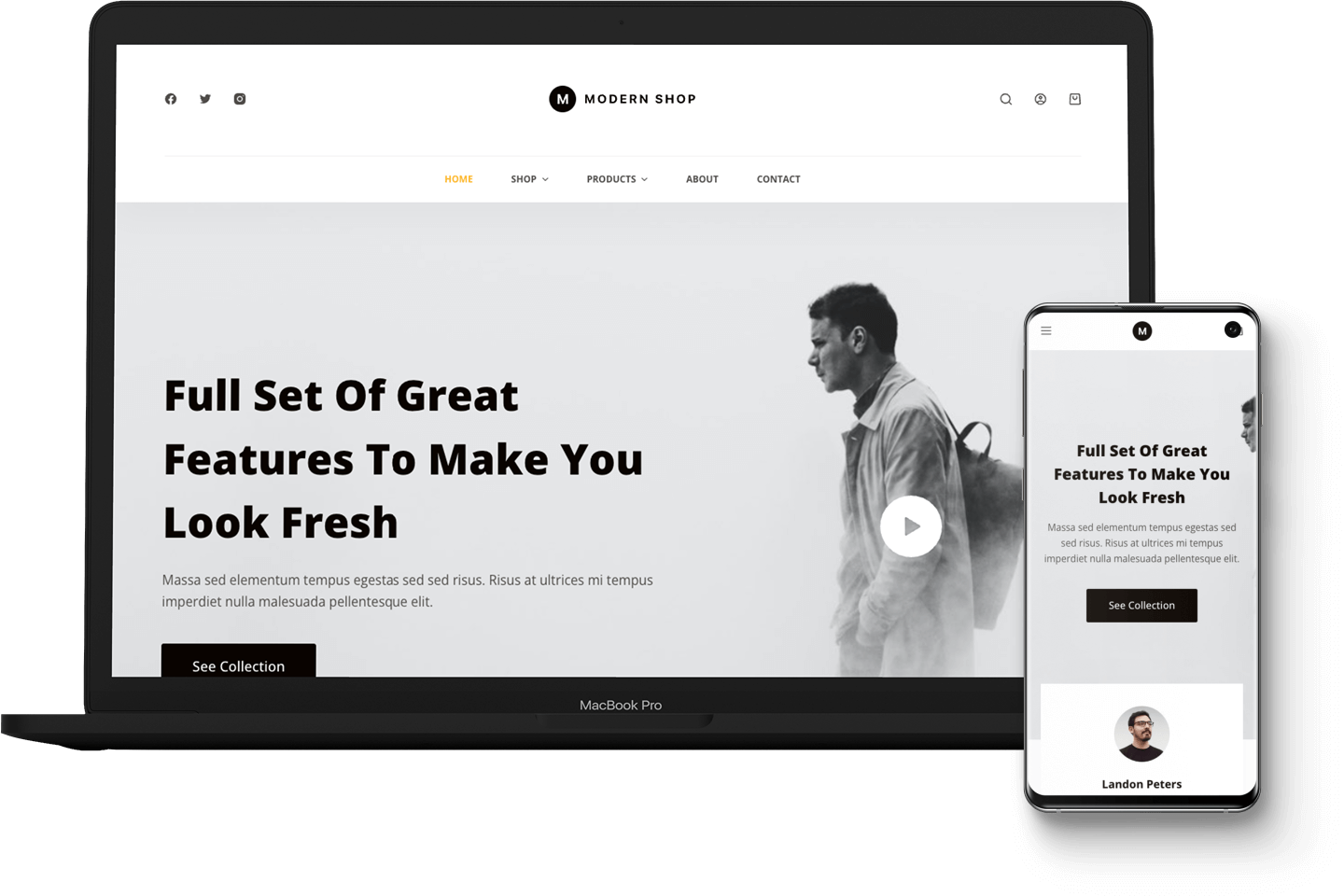 Blocksy
If you're a WordPress beginner and feel intimidated at the thought of building your own business website, then Blocksy's tagline will speak to your soul: "Build your next web project visually in minutes, without coding skills." Blocksy doesn't only make you feel at ease, but also offers plenty of features for both beginners and seasoned WordPress users to get excited about. Check them out below.
Features:
Built to work with popular WordPress page builders like Elementor, Brizy, and BeaverBuilder
Hyper-intuitive options to customize and change every part of your website in real-time
Ability to manage and access color and background options where and when you need them
Freedom to change the typography in each part of your website – globally or locally
Five types of modern and clean archive layouts for your blog posts
SEO ready right from the first line of code
Modern page hero/title sections with parallax effects and more
Related posts section to reduce the bounce rate by displaying more recommended content
Get It Here Demo Price: $0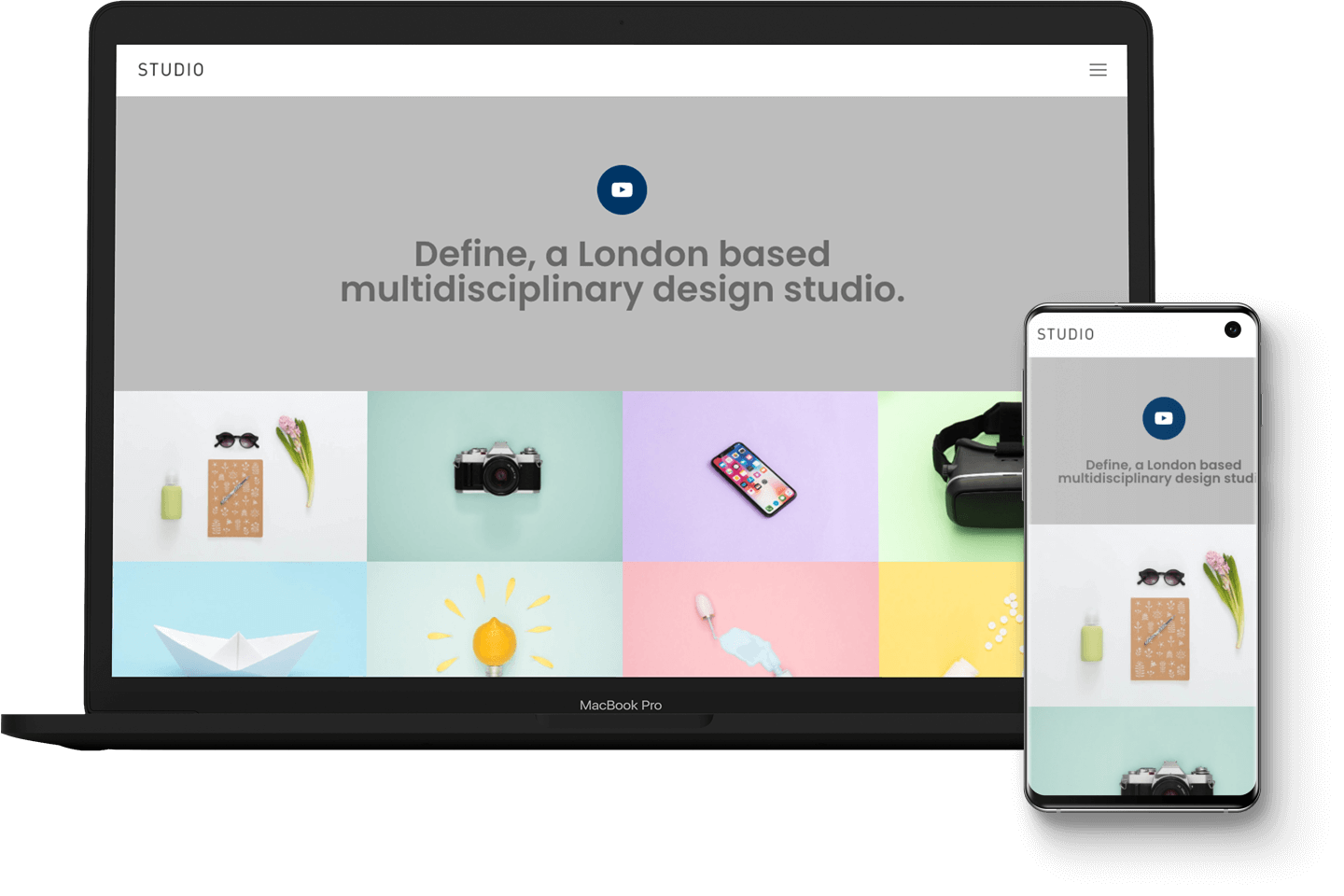 Customify
As its name implies, Customify is a theme that was made to bend to your will. Openly advertising itself as "the most customizable WordPress theme on the market," it has a lot of flexibility as you'd expect, but the advantages don't stop there. It's also compatible with all the popular page builders, optimized for speed and SEO, and offers email support if you need help while building your business website.
Features:
Dozens of available pre-made sites ready to import
Edit and see the changes in real-time with the built-in visual editor
Elementor, Brizy, BeaverBuilder, ThriveArchitect, and other page builder integration also available
High-level of customization including unlimited typography settings
Create a header or footer exactly the way you want it to be displayed
Plus a unique header specifically for mobile devices
Responsive edit modes to customize how you want a page to look on desktop, tablet, and mobile
Pro version offers even more, including infinity scroll and mega menu for large sites
Price: $0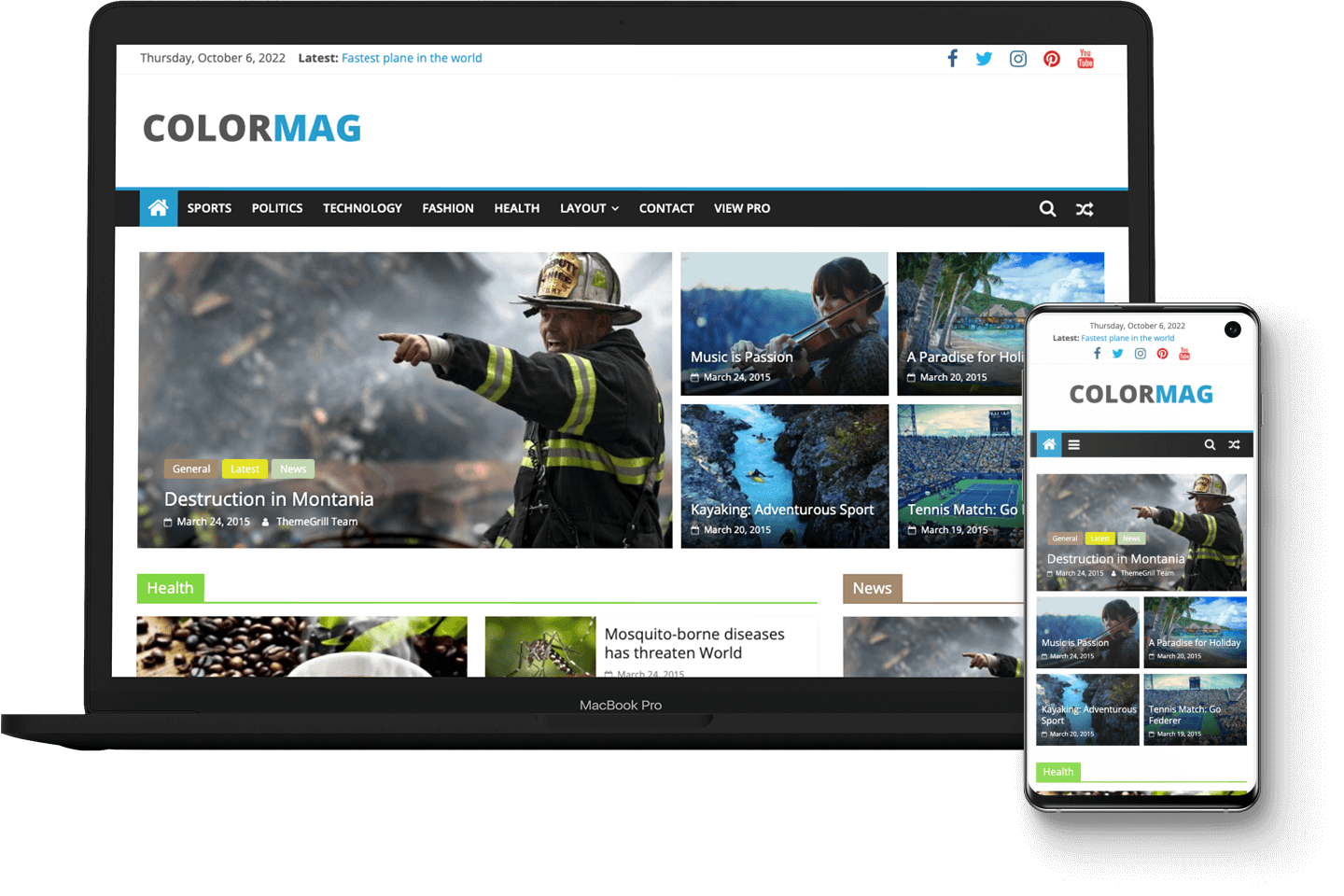 ColorMag
ColorMag is tailor-made for developing any kind of business website. It comes with over 25 pre-made website templates, so you can start faster than the flip of a page. For the more creative types, it's also compatible with numerous page builders, which means you're free to tap into your artistic genius. Build a business website from scratch without touching a line of code.
Features:
Compatible with the block editor, Beaver Builder, Brizy, Elementor, and SiteOrigin
Tested and proven to render a consistent visitor experience across all major web browsers
Optimized for SEO
Built with speed in mind and has shown in testing to load in less than one second
Multiple widget areas and the ability to create custom widgets
Color and font choices under your control
Option to integrate with WooCommerce, so you can also sell things if you want to
Forum, chat and support tickets available for assistance if you need help
Price: $0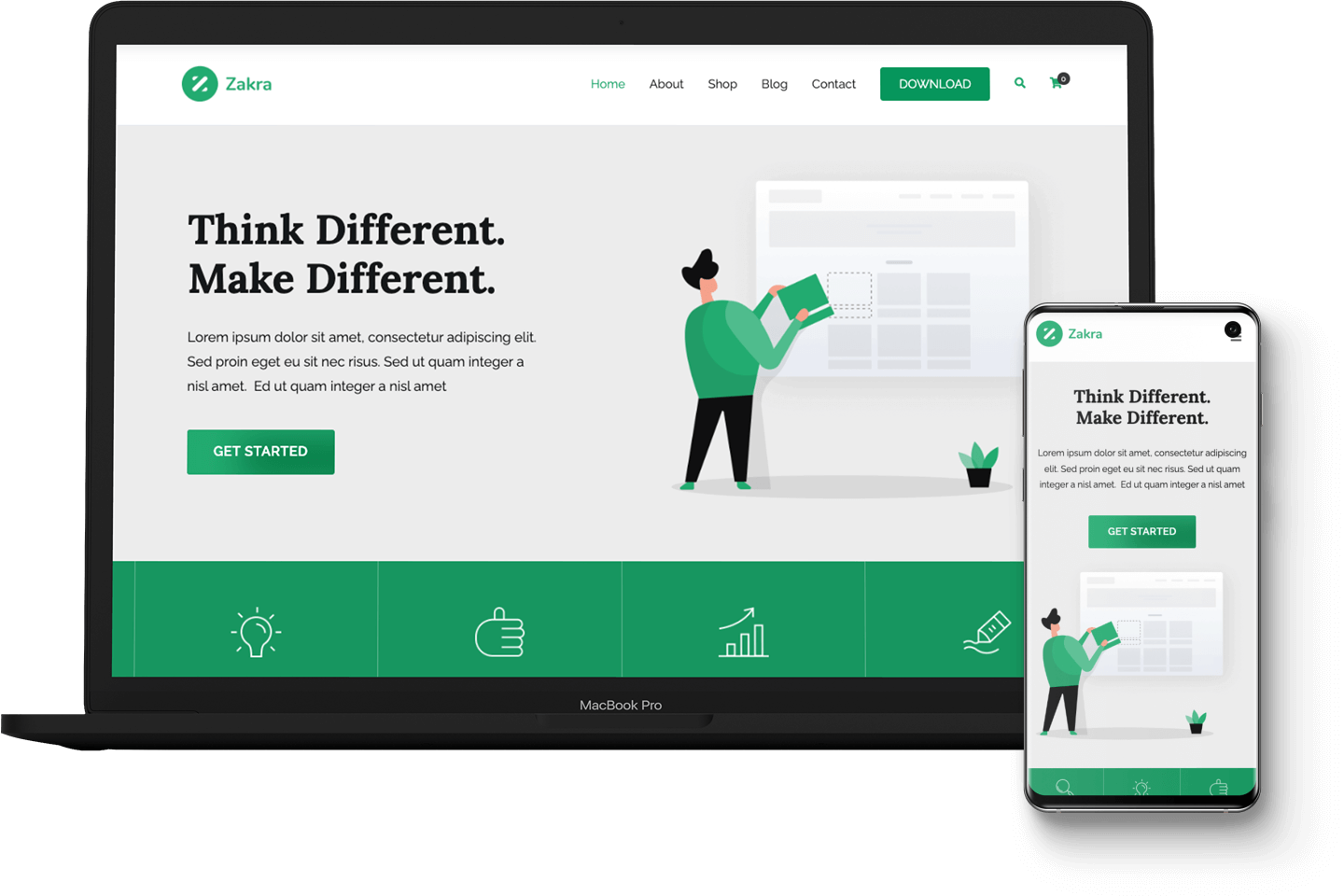 Zakra
Zakra's tagline is "the only theme you'll ever need." That's a bold statement, but Zakra backs it up with a host of features and close to 100 pre-made starter templates. You probably won't even get through all of them before you find one that will fit your future business website. You will also love Zakra for its ease of use, where custom coding is welcome, but completely optional.
Features:
User support for both free and pro versions of Zakra
Optimized for speed to keep site loading time to a minimum
SEO-optimized and works with major SEO plugins
Compatible with the block editor and Elementor site builder
Tested with all major browsers to ensure a consistently clean aesthetic look
Widget areas are available on important areas of the theme from header to footer
Translation-ready so that any hardcoded English text can be translated to another language
Option to use custom CSS to tweak the look and the design of the theme
Price: $0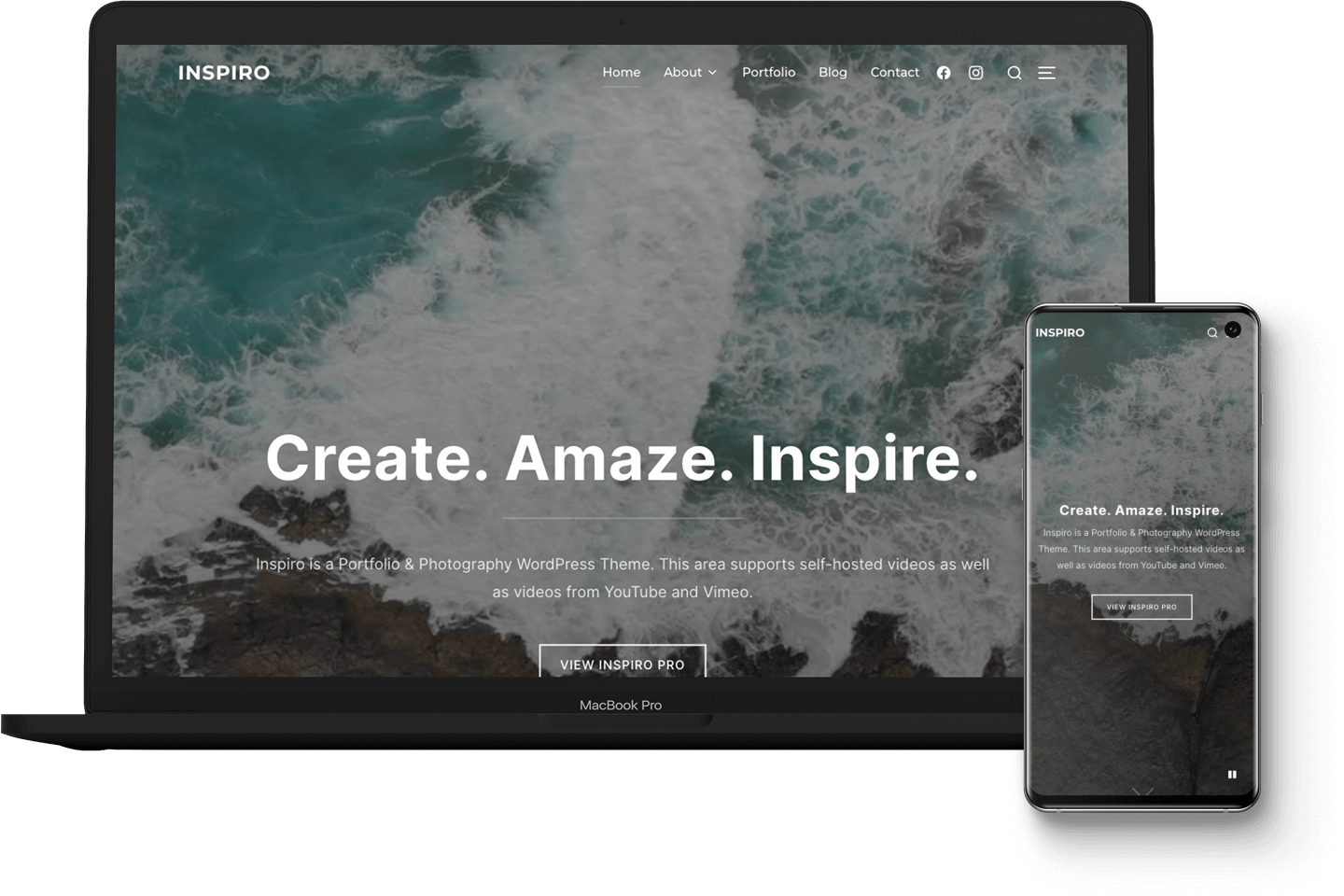 Inspiro Lite
If you want to inspire your business site visitors with a theme that's light on weight, but heavy on features, then Inspiro Lite is your choice. It's a photo and video-focused WordPress theme with a modern design that is sure to please a crowd. The Lite version comes with plenty, but for those looking for even more, there are two upgrade options that unlock additional inspiration. Check out the Lite version features below.
Features:
Compatible with popular page builders such as Elementor and Beaver Builder
Works with WooCommerce so if you want to sell on your business site, then you can do so
Includes a fullscreen area that supports Vimeo, YouTube and self-hosted video backgrounds
Easy to manage, with a drag-and-drop interface so you don't need to know any code
Fully customizable using the Theme Customizer
Accepts CSS snippets to give you even more control over the design
Option to add WP Rocket or JetPack plugins to increase speed
Add social icons widget or Instagram widget to convert your site visitors into followers
Price: $0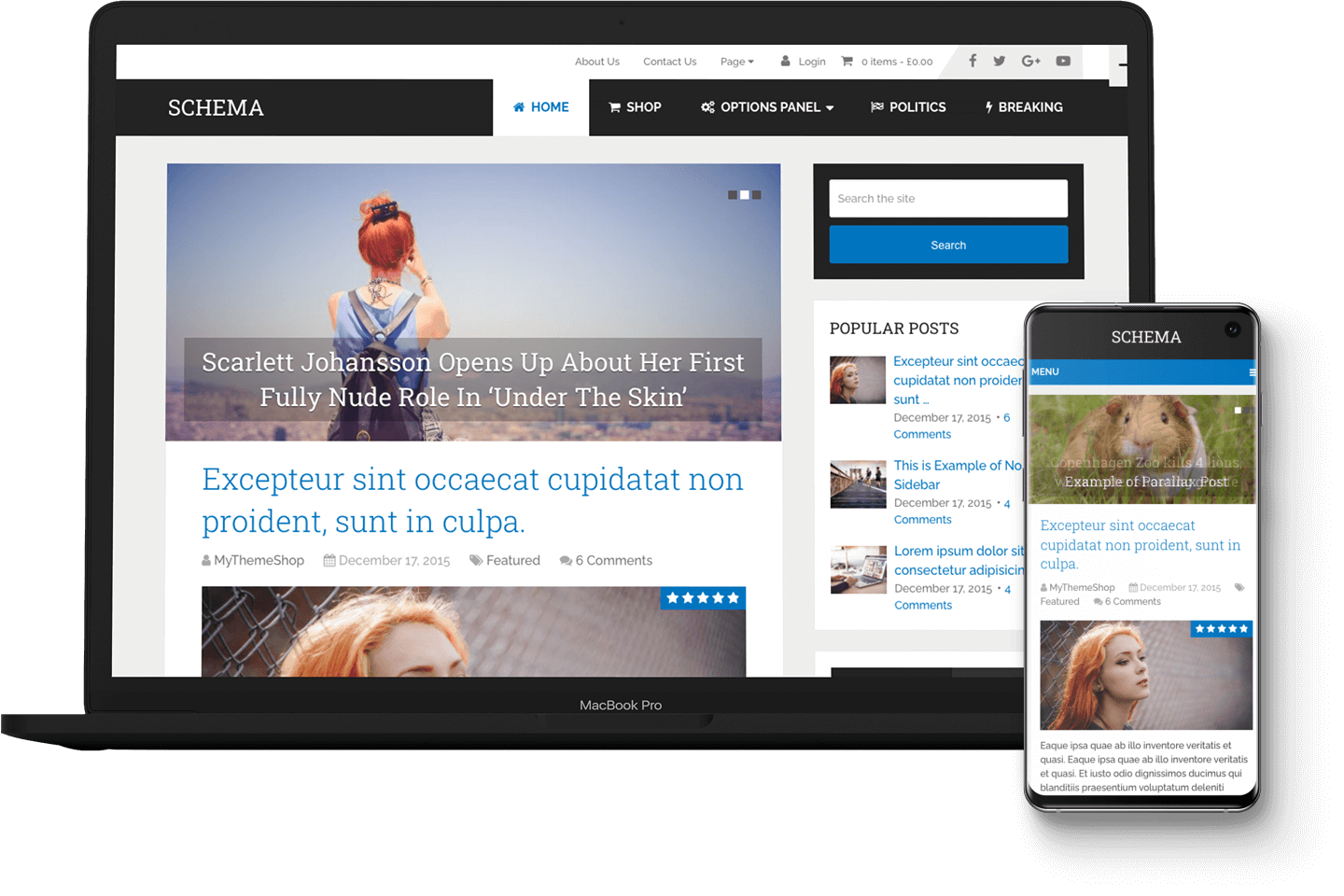 Schema
In web development, the term "schema" refers to a form of data added to a webpage to generate a description. Although not a guarantee, having this description does make webpages appear more prominently in search results. As you can imagine, a theme calling itself Schema is going to include this feature and be generally obsessed with SEO optimization. If ranking your business site highly is important to you, then Schema might be the right theme for you.
Features:
Lightweight, secure, and battle-tested code to keep your site performing securely and optimally
Fully responsive so it displays beautifully on all devices and browsers
Built-in review system so visitors can add reviews directly on your content
Schema markup included to help Google identify your content and rank you higher
SEO-ready with the latest implementations to keep the Google bots crawling your site
Over 350 icon fonts that allow you to add icons anywhere on your blog without slowing it down
Three different related posts layouts to keep visitors on your site longer
Custom CSS code is accepted for those who seek absolute control over their design
Price: $0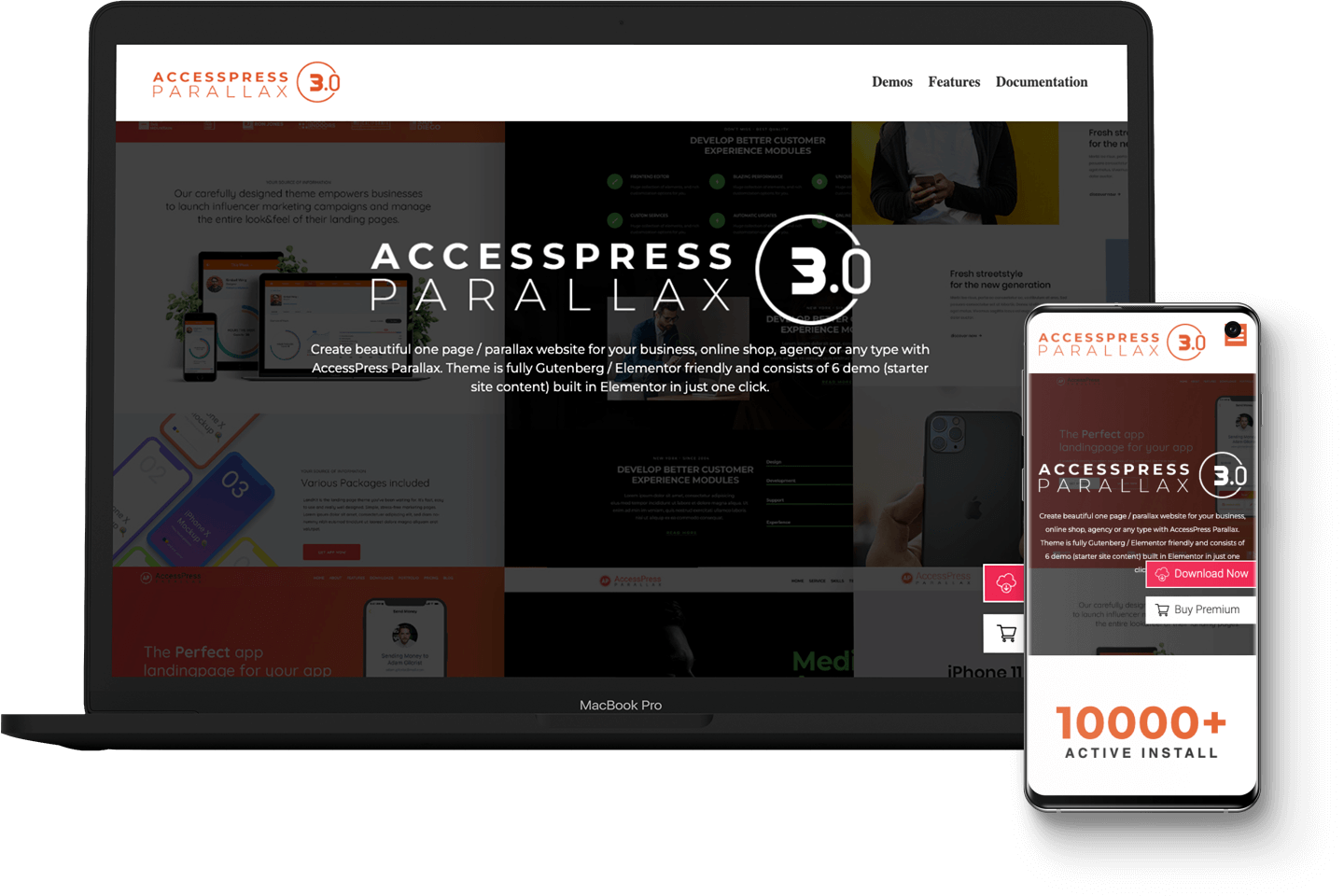 AccessPress Parallax
If you're looking to "wow!" your future business site visitors, then the AccessPress Parallax theme is a good starting point. Even if you're not familiar with the term "parallax", there's a good chance that you've probably been impressed by this popular 3D effect at some point in your web browsing history. It's intuitively expected that a theme incorporating the feature name in its title will offer it, and AccessPress Parallax does not disappoint. Learn more, and get ready to say "wow!"
Features:
Customizer-based theme so you're able to make edits in real-time without having to use code
Compatible with both the block editor and Elementor
Fully responsive so your business site will look great on desktop, tablet, and mobile devices
Tested using major browsers to ensure a consistent visitor experience
Configure and place social links/icons on the header/footer
A separate, feature-rich blog layout
Upload your logo and favicon to highlight your brand
Add custom CSS/JS codes right from the theme panel
Price: $0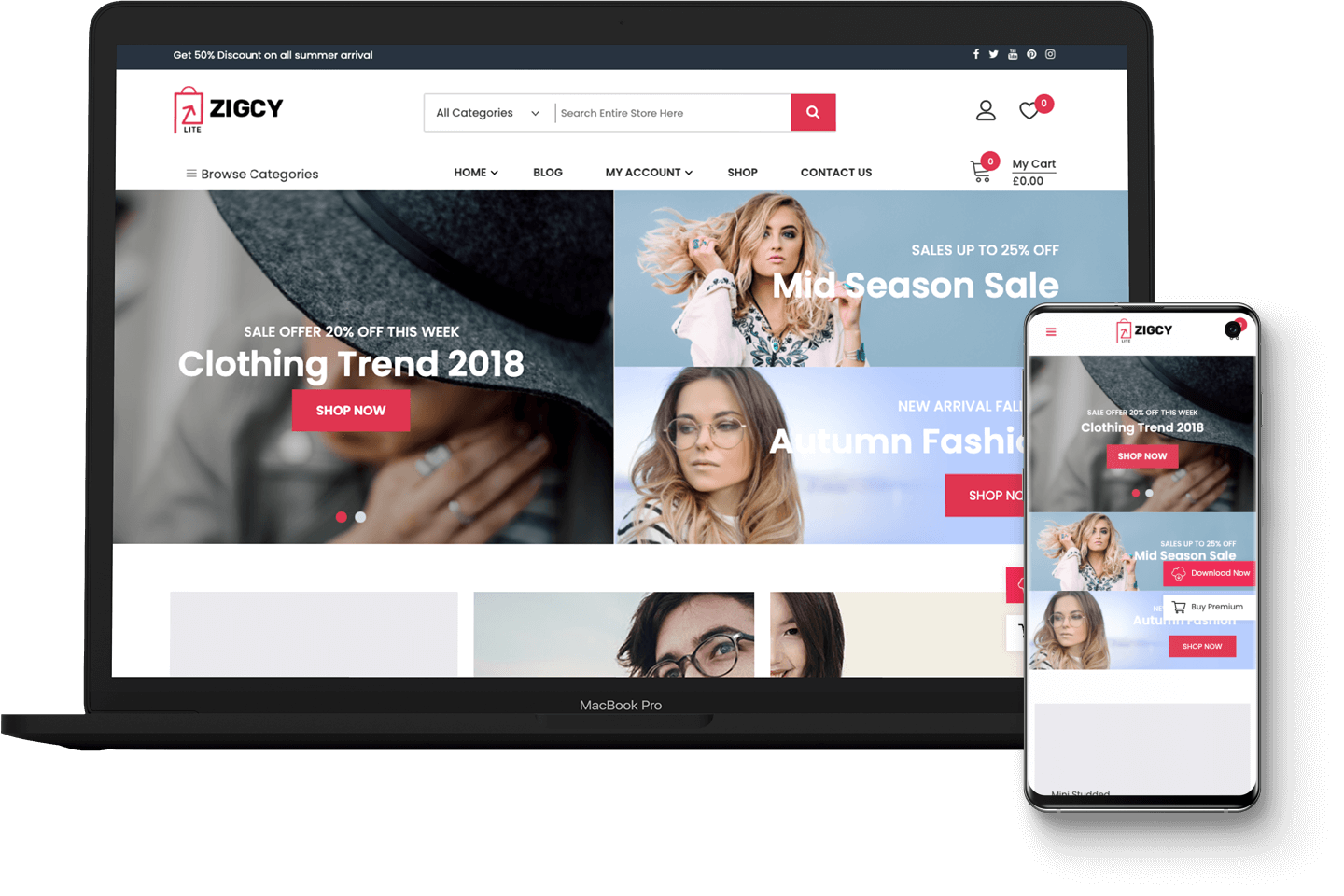 Zigcy Lite
Zigcy Lite is a WooCommerce focused theme built to create attention-grabbing online stores. It offers the full range of WooCommerce features so you can create your business store in the most customizable way possible. It also contains three stunning pre-built demos that you can import with just one click. Along with being fully SEO optimized, the theme is also fast loading and translation ready. Get into the features below.
Features:
Fully compatible with Elementor page builder
Built using Customizer so you can preview in real-time as you build your business store
All home page components are configurable to your liking
Deep WooCommerce integration to leverage the full power of WooCommerce to your advantage
Import a demo you like in just one click and start adding your own products to your store
Product and content search options to allow customers and visitors to find what they want
A beautiful CTA (call-to-action) section that features the description of the latest product
Four layout options for both pages and posts – no sidebar, right sidebar, left sidebar, both sidebars
Price: $0
Flash
What's the first thing you think of when you read the word flash? Is it the iconic DC superhero? Is it lightning? Is it speed? Is it the outdated web technology? Whatever it is, it's about to be replaced in your brain's personal search engine results. Once you take the Flash theme for a test run, you'll be so impressed with how easy, flexible and feature-rich it is, that the next time you see or hear flash, you'll be transported back to how much fun you had building your business site using this theme. Check out the fantastic Flash features below.
Features:
Six widget areas in the sidebar to augment your site the way you want it
Compatible with the block editor and major page builders
Three header, logo, and menu position layouts – plus a sticky header option
Header search box so your visitors can find exactly what they're looking for
Four footer widget layouts
Back-to-top button for a convenient scrolling experience
Breadcrumbs option to keep your visitors engaged with your content
WooCommerce integration along with related features like product catalog, product image, etc
Price: $0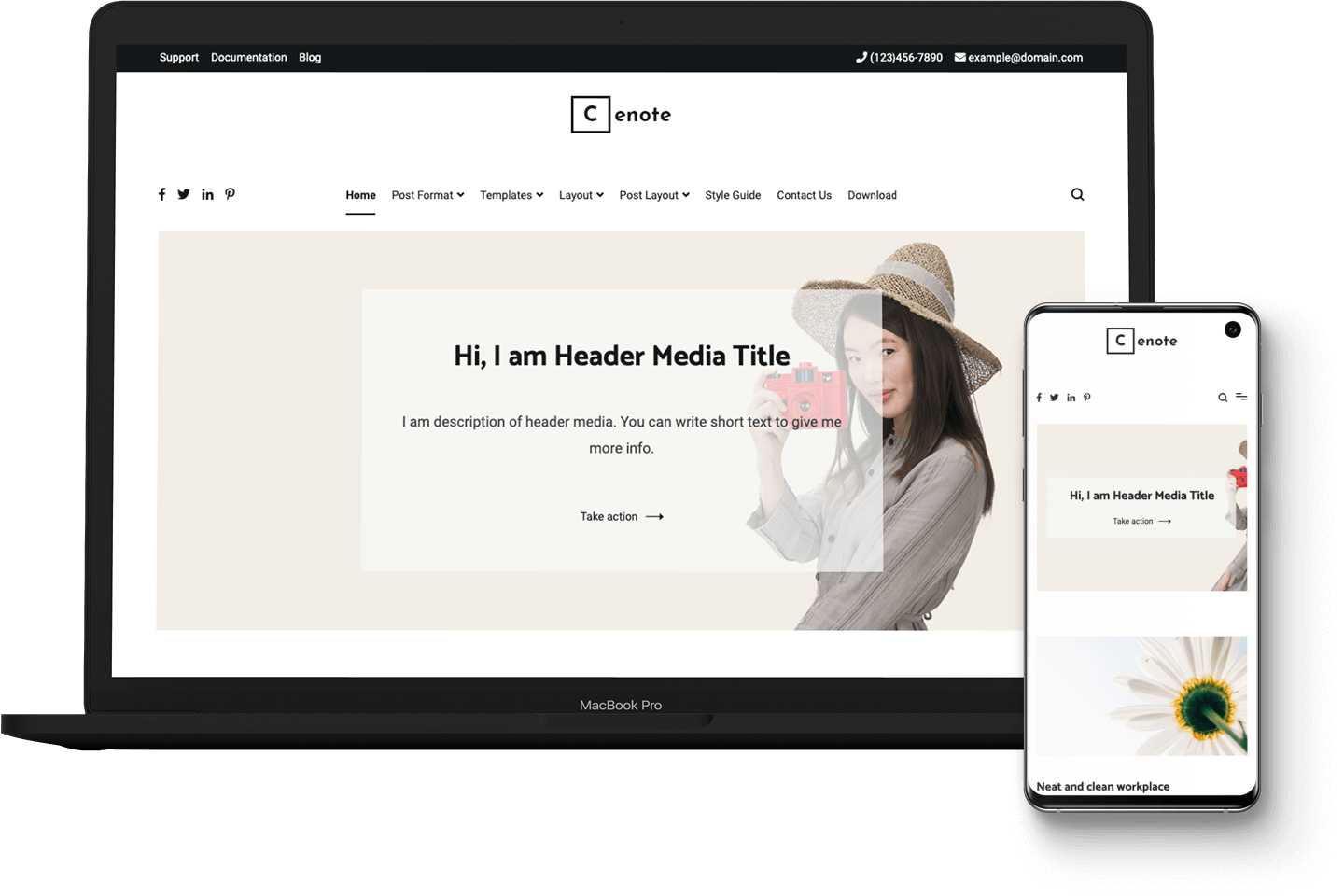 Cenote
The word cenote is derived from a Yucatec Maya word and refers to any location with accessible groundwater. The same way that access to water is necessary for life, access to a fast, customizable, and user-friendly theme is necessary to build a successful business site. The Maya trust cenotes to provide what they need, and with all of the powerful features that this theme offers, you can trust Cenote to meet your needs as well. Take a sip from the offerings below.
Features:
Compatible with all major browsers for a consistent visitor experience
Optimized for both speed and SEO
Choose the width and layout of your page with a sidebar on the left or right, or no sidebar at all
Multiple widgets included, with the option to add custom widgets
Over five ready-to-use starter sites to get your business site up and running
WooCommerce integration with additional features to help you create a well managed store
Works with many popular page builders so you can create a layout to your liking
Add your social media links to convert your visitors into followers
Price: $0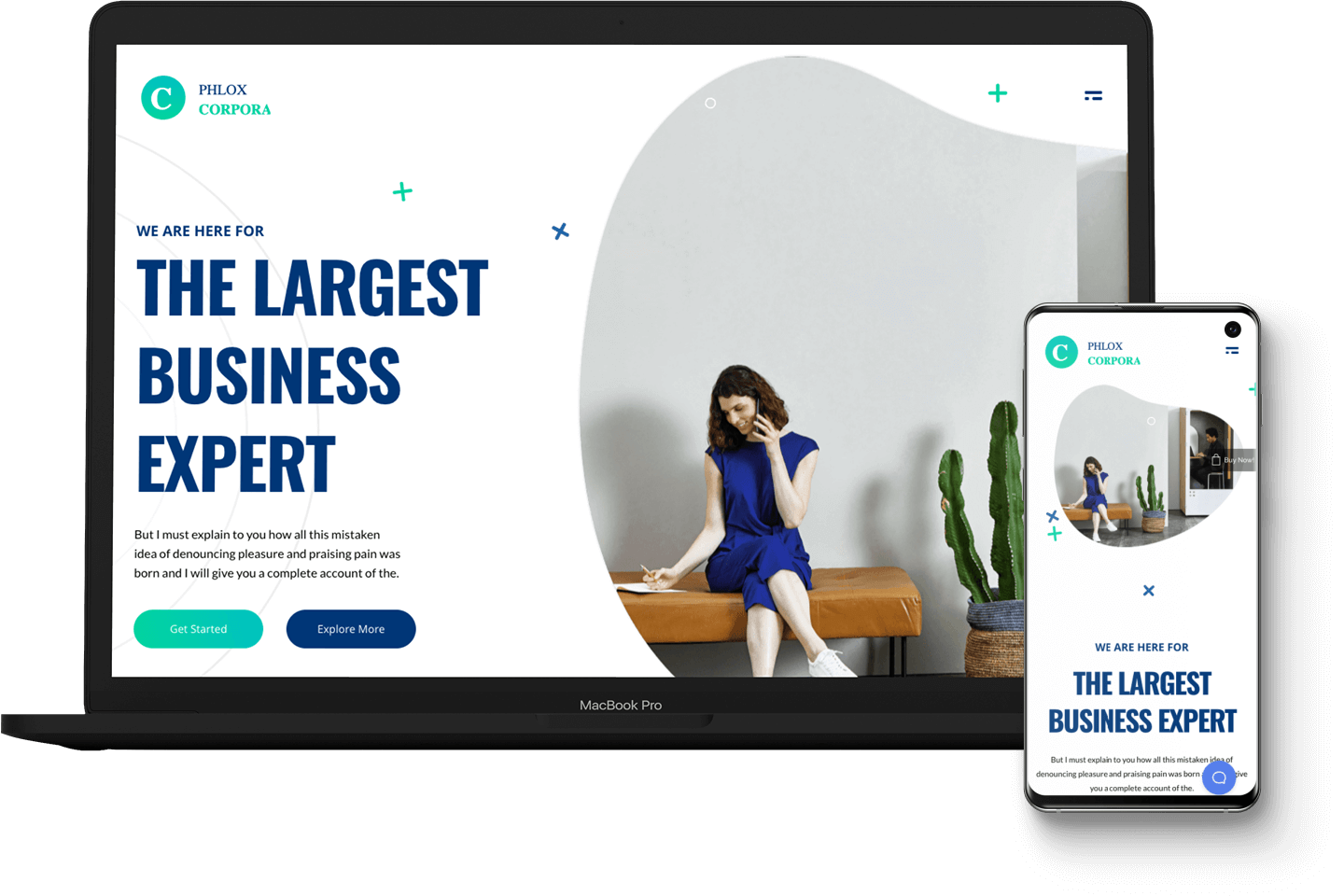 Phlox
There are many themes in the WordPress landscape that offer pre-built templates to give you a quick start on building a website. Phlox is no exception, but in a way, it is an exception, in that it offers an exceptional quantity, that's matched only by each template's exceptional quality. Spend a few minutes browsing through the more than 190 demo themes and it's virtually impossible that you won't find something to fit the vision you have for your business site. If you still want more, check out the features below.
Features:
Build your site to your specifications using the Elementor page builder
Comes with over 30 exclusive widgets to augment the functionality of your site
Change the theme options and see the result in real-time
Built to be an out-of-the box responsive website solution, designed to work on any screen size
Choose gallery layout style using either the Grid or the Masonry layout
Highlight your posts with a unique touch and respond slider
Turn your business site into an online store with WooCommerce integration
Variety of additional customization options to let you customize any part of your website with ease
Price: $0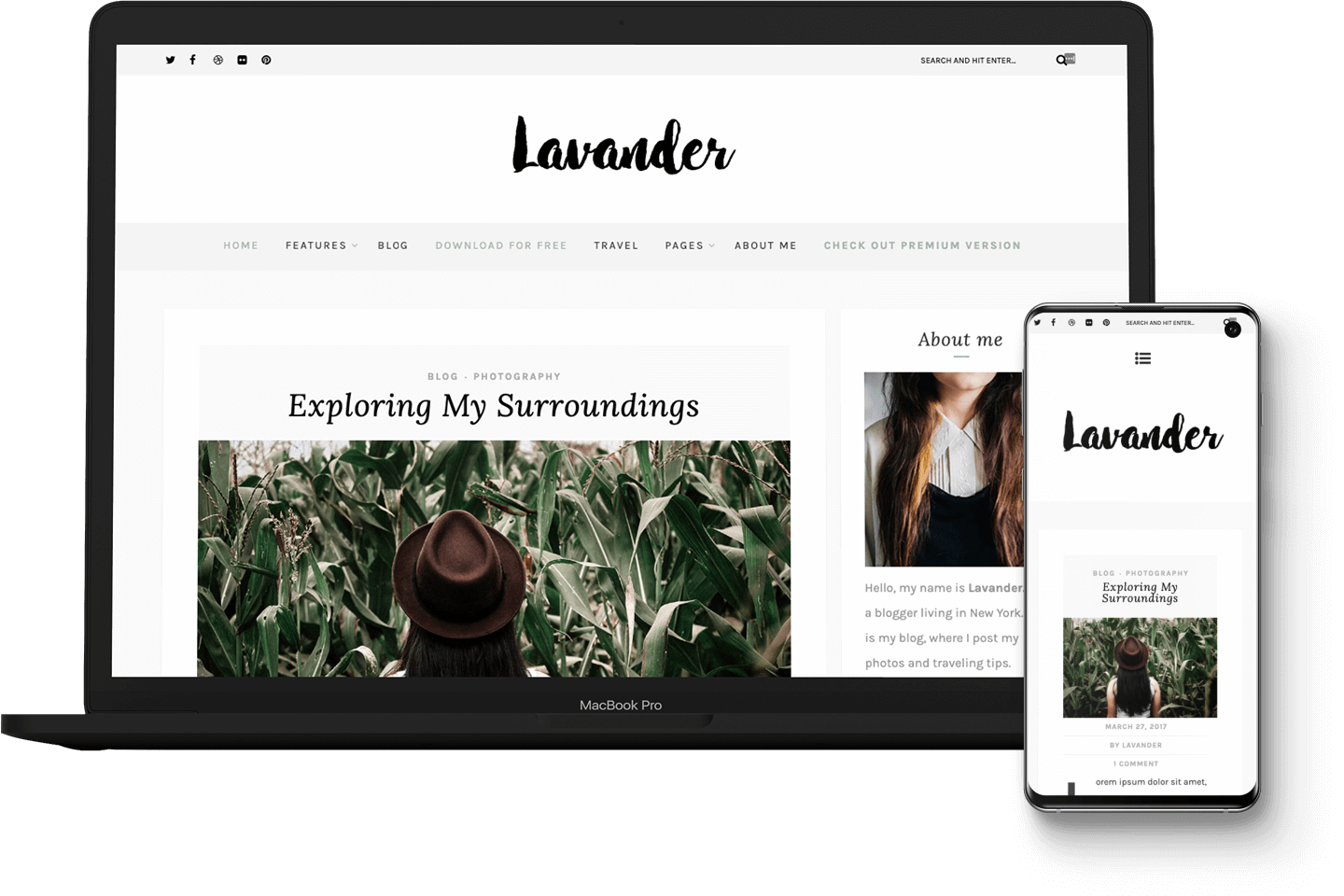 Lavander Lite
If you're sniffing out a clean and polished WordPress theme with a minimalistic feel, then Lavander Lite might be exactly the scent you're looking for. Its overall design follows the latest industry trends, making it a great choice if you plan to give your business site visitors a smooth content consumption experience. Check out the features below.
Features:
Retina ready and fully responsive so your site will look amazing on any size device
Six pre-built demos that you can install with one simple click of your mouse or trackpad
Social media icon links to turn your site visitors into devoted followers
Three different post formats (standard, gallery, video) to give variety to your content
Various double and triple column presentation options to display your text or images
Clean, stylish typography that transports you back into the world of print magazines
Search bar so visitors can find exactly what they want on your business site
Google Maps embedding option if you have a physical location and want local visitors
Price: $0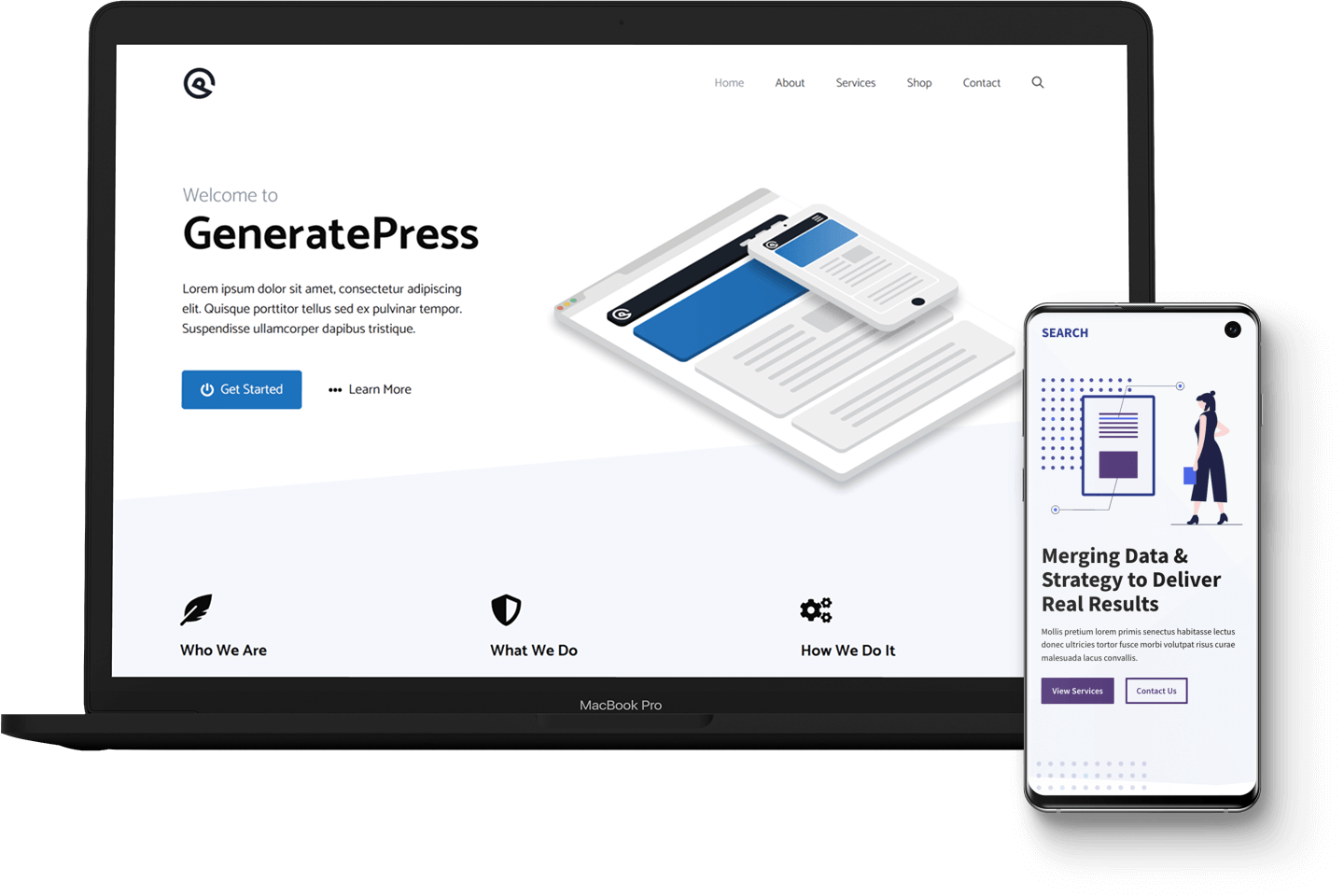 GeneratePress
Do you want your business website to generate success? Well then look no further than GeneratePress. With an extensive library of pre-made, professionally designed websites that can be activated within minutes, you can simply swap in your own photos and text, and your business site will be generated in record time. GeneratePress is sure to leave you impressed.
Features:
Lightweight and built with a focus on speed + usability
Fully responsive and uses valid HTML/CSS
Compatible with all well-coded plugins, including WooCommerce
Compatible with all major page builders, including Beaver Builder + Elementor
Over 60 color control options
Five navigation locations and five sidebar layouts
Dropdown menus (click or hover) and nine widget areas
Availability in over 25 languages
Price: $0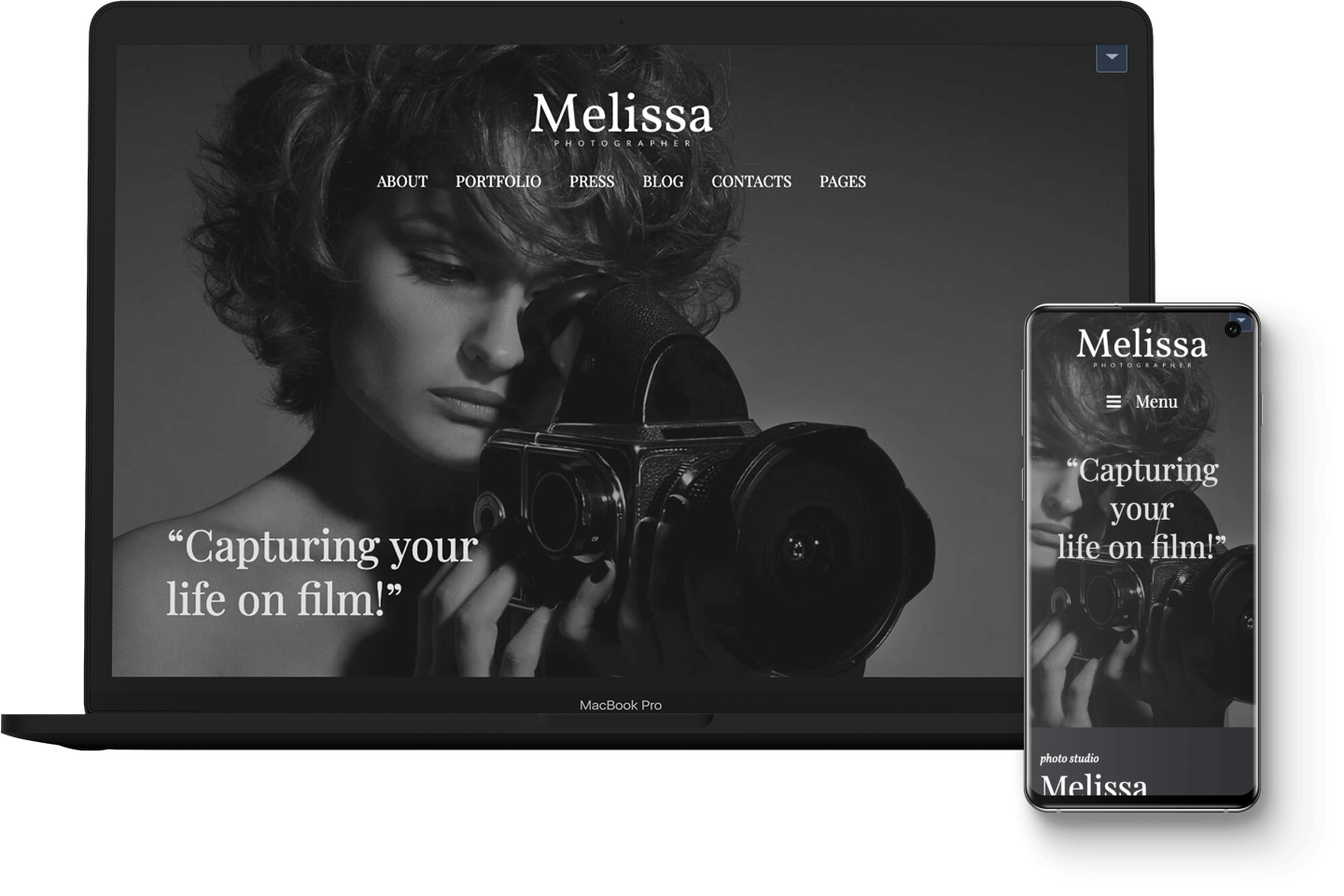 Melissa
Have you met Melissa yet? She's the talk of the WordPress town. Word on the web is that she's approachable, responsive, and open-minded to adjustments. She also carries an accessory bag full of the best WordPress goodies to make your business site look and perform at its best. Overall, she's really enjoyable to work with. Go ahead. Don't be shy. Say "hello."
Features:
Three header styles and three footer styles to choose from
Seven post layout styles at your disposal
Full-width sliders to make your content pop from the page
Complete control over the sidebar (left, right, or none at all)
Comment widgets to engage with site visitors
Change the look and feel of any part of Melissa using the native WordPress editor
Ecommerce possibilities to monetize your business site
Responsive so your site will look great on desktop, tablet and mobile devices
Price: $0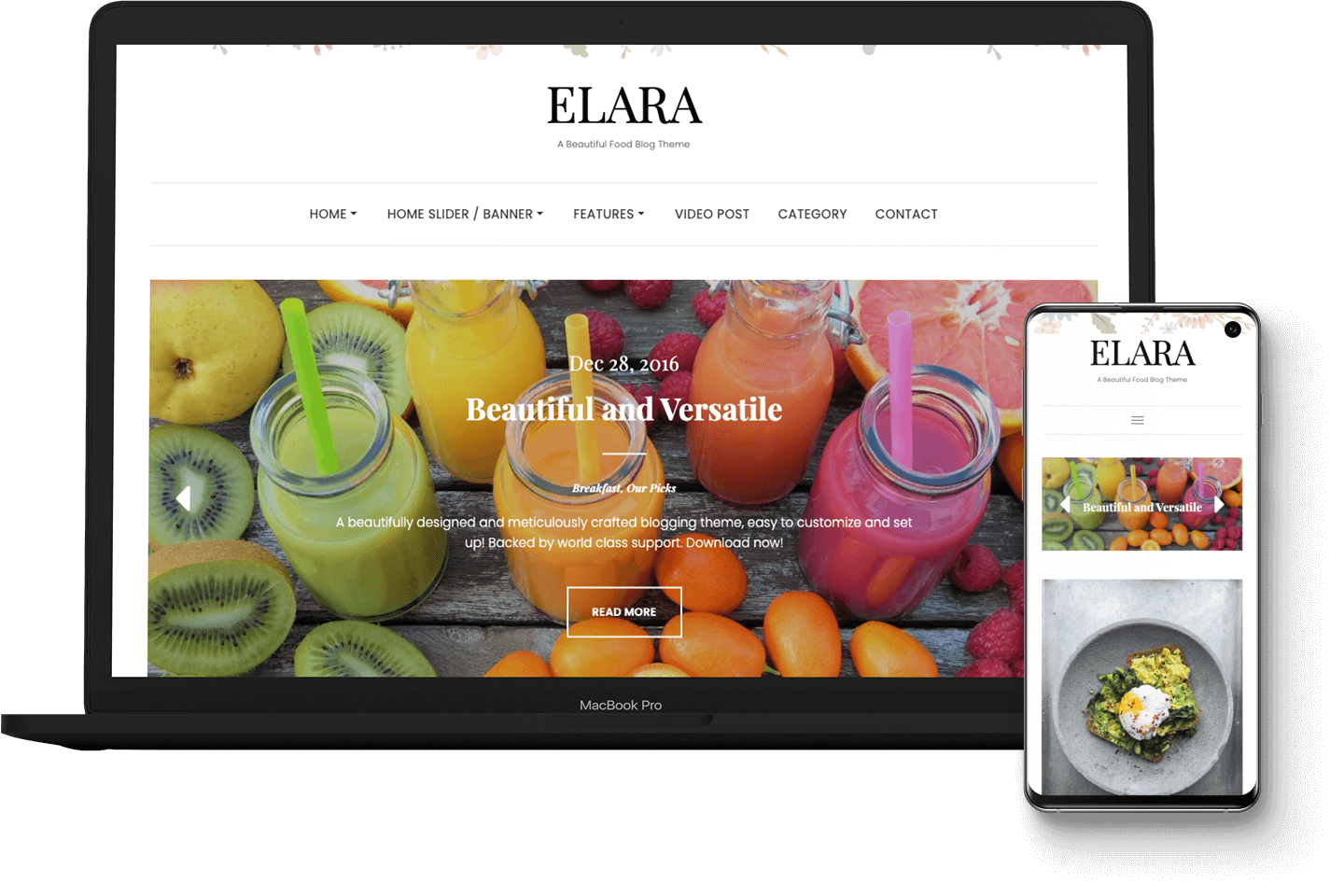 Elara
Elara will elevate your expectations of what an aesthetic business blog should look like. If you enjoy taking and posting photos in portrait mode, then you'll be particularly elated with Elara. This simple, elegant theme is specifically designed for use with taller images and it gives you several ways to display your content. The beautiful typography compliments the overall look and will keep your visitors' eyes glued to their screens.
Features:
Intuitive settings and customization options give you full control over your blog
Full-width option for posts, pages, and categories so you can immerse your visitors in your content
Header and footer widgets so you can adjust them to your needs
Front page highlight post and front page featured categories so you can show what matters most
Text or image logo options so you control how your brand is presented
Easy social media menus to stay connected with your followers
Front page banner and posts slider to grab your visitors' attention
Video post option to connect with your audience in a different format
Price: $0
Kadence
Kadence is a theme with a lot to offer for anyone looking to build a business website. Right off the bat, there is an extensive library of no-code-required, ready-to-use starter site templates. You can import one of these, swap out some text and photos, and have your business site live in no time. If you'd rather march to the beat of your own cadence, you can do that too. Kadence is compatible with many popular page builder plug-ins, including Elementor, and Beaver Builder. See more features below.
Features:
Header & footer builder with an easy-to-use, drag-and-drop interface
Global color palette so you can change colors site wide with a few mouse clicks
Global typography with any Google font or web-safe font applied to your whole site
Global button settings to create the perfect button style that will apply to buttons across your site
Built-in breadcrumb generator to enable breadcrumbs and keep visitors on your site longer
Social icons for your header and footer so you can connect your site with your community
Fully responsive from tiny screens to large monitors and you can customize to your liking
Built with the best SEO Practices for markup and schema where needed
Price: $0
Botiga
Botiga is a Catalan word that translates to "shop." However, you don't need to be a Catalan speaker to understand that having a lightweight, high-performance theme will translate into a strong foundation for your online business store. Use Botiga if you want to showcase your products in a clean, minimal design that is highly customizable and made to work with WooCommerce.
Features:
Free version comes equipped with everything you need and Pro is even more impressive
Choose from six different archive layouts for your ecommerce blog page
Show your products how you want with three gallery styles for your product page
Edit every aspect of your product card, including card style, elements, color, font, and more
Offer product filters to help your customers find the product they want in only a few clicks
Insert product recommendations to showcase related and upsell products on product pages
Use badge styles to show which products are on sale or show special offers to boost sales
Tweak your checkout page by showing the total amount on the right side or at the bottom
Price: $0
Foodica Lite
Foodica Lite might have the word lite in its name, but a simple taste test, and you'll likely feel as satisfied as if you ate a heavy meal. If you're hungry to create a mouth-watering business blog, then this theme's beautiful slider and overall aesthetic appearance will wet your appetite. The layout of the homepage is photo-focused, which will grab the attention of your visitors, and will make them want to consume whatever comes out of your oven. Get into the features below.
Features:
Organize your content into tabs with tab boxes
Choose between a two, three, or four column layout to display your images and text
Pick from multiple mini-icon options when creating lists
Add a comment widget so your visitors can engage with you right on the page
Embed your Instagram feed onto your business site to keep your visitors connected
Include social media icons in your header or on your page to increase your follower count
Customize buttons in every possible way from size to color to the inclusion of icons
Offer visitors the option of searching your site with a search bar tool
Price: $0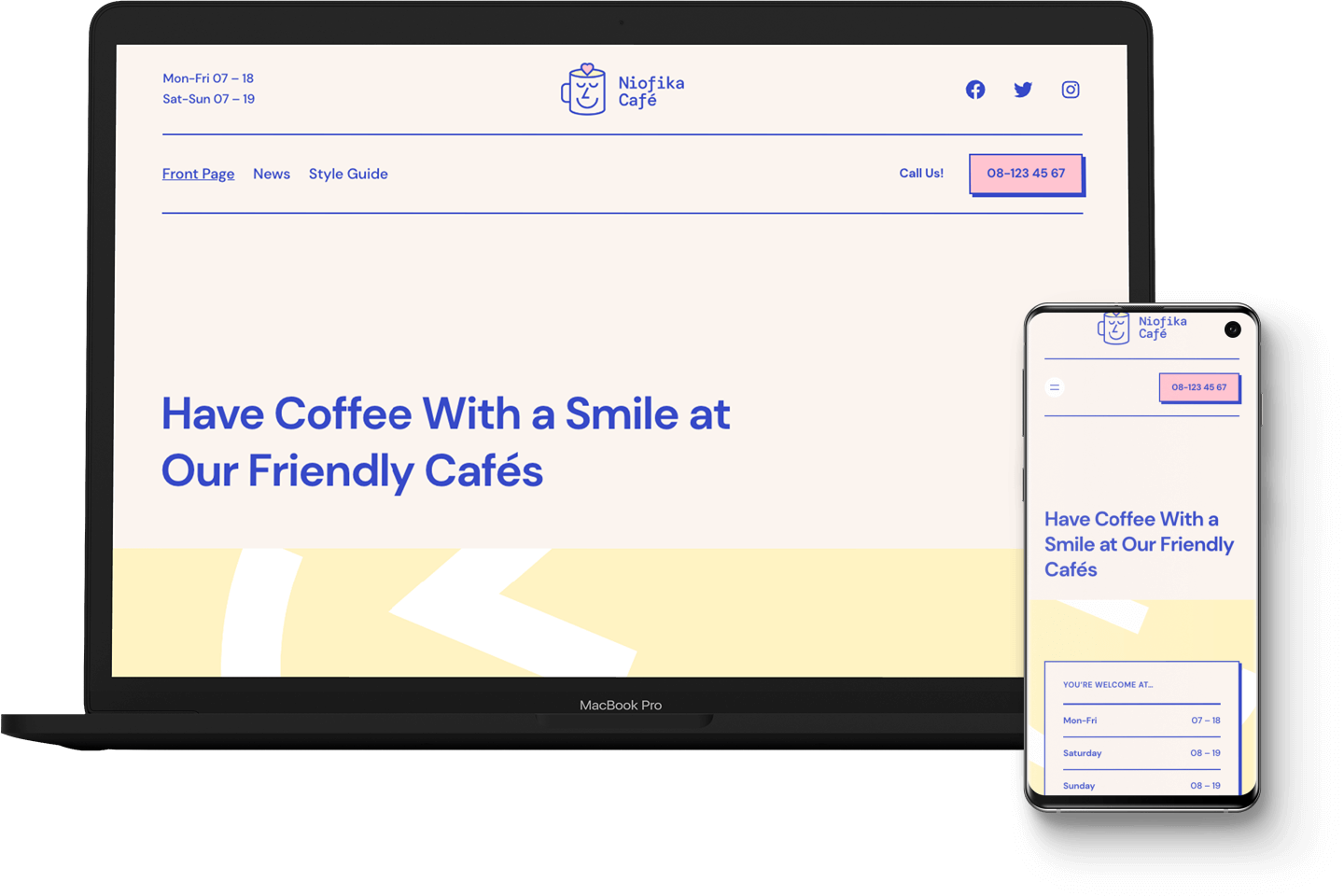 Tove – WordPress Themes
Tove is a fun and colorful block theme built entirely around the concept of full site editing. Full site editing (or FSE for short), is a collection of WordPress features that focuses on using blocks to style all parts of a website, not only the content. Thanks to the layout features offered by FSE, you can use the Tove theme to create your business website exactly how you want it. Learn more below and get into it.
Features:
Jumpstart your business site with over 40 pre-built block patterns
Access six different header designs and seven different footer designs
Keep visitors from waiting for your site to load because Tove is only a smidgen over 200 kilobytes
Modify the structure of your blog archive and blog posts easily
Change the colors in the theme, adjust spacing, and tweak the typography with just a few clicks
Add a sticky post to the top of your blog to highlight what you want visitors to see
Translate the theme into whatever language you'd like
Customize the menu and upload your logo
Price: $0
Mission News – WordPress Themes
Mission News is on a mission, and that mission is to help people like you build a business website that will be seen and heard. This theme's premium-quality design will add credibility to your every word and is inspired by classic news sites you're probably already familiar with. Did we mention it's fully compatible with the block editor and other popular page builders?
Features:
Packaged with clean layouts to put all the attention on your content
Built responsive so your business site will look great on laptops, tablets, and phones
Battle-tested to look amazing on real websites, not just the demo version
Coded following WordPress best practices and has passed manual code reviews
Actively maintained and always updated before every major WordPress release
Same-day support from the developers who make the theme
Tons of tutorials with step-by-step instructions in the Mission News Support Center
Plays well with page builders like Elementor and ecommerce plugins like WooCommerce
Price: $0